Sea Recovery Aqua Whisper Compact and Modular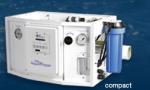 Ideal for mid to large size yachts 40 to 150 feet in length (18 to 68 meters), the Aqua Whisper water maker features semi-automatic operation with a touch pad control panel that allows simple touch-and-go operation. The touch pad provides 10 illuminated LED status indication lamps of the system operation, which can also be viewed and managed with the optional Touch Pad Remote from anywhere on the boat. Product water quality is displayed in bar graph format with an additional 10 LEDs , and fault LED indication is provided for easy diagnosis of required maintenance.
Aqua Whisper Compact is a low profile, horizontal one piece frame configuration that minimizes installation time. All components within the frame are readily accessible for ease of maintenance.
Aqua Whisper Modular allows for separate system component placement when there is insufficient space for the compact system.