MasterVolt Control Panel Panel CC Remote Control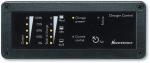 You want to stay in complete control of the situation and have accurate information. Guesswork is not good enough when it comes to the status of your power system.
The remote control panel CC (Charger Current) is designed to read out the essentials about the status of the charging process, the intensity of the charge current and availability of AC power. Besides, a limit can be set for the charge current (to prevent the external AC source from an overload situation). This small advanced remote panel (universal for 12/24V DC) can be connected to a telejack communication port.