Sea Recovery Ultra Whisper Compact and Modular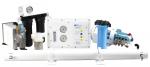 The Ultra Whisper is the logical choice for those who require a low power consumption water maker and is ideal for small sail and power boats that either have only DC power available or small AC generators less than 4kW in size.
This energy efficient water maker self-adjusts to any feed water condition. The user-friendly touch pad provides 15 illuminated LED status indication lamps of the system operation and product water quality. Fault LED indication is provided for easy diagnosis of required maintenance. Operation of the system can also be performed from a remote location.
The Ultra Whisper patented energy recovery device (enhancer) is smooth running, extraordinarily quite, and water lubricated, so no oil changes are required. This state-of-the-art pump is manufactured from highly corrosion and erosion resistant duplex stainless steel material that provides far greater protection than 316 stainless steel.
The Ultra Whisper Compact is a low profile, horizontal, one-piece frame configuration that minimizes installation time. All components within the frame are readily accessible for ease of maintenance.
The Ultra Whisper Modular allows for separate system component placement when there is insufficient space for the compact system.