Sea Frost BD and BDxp Compressor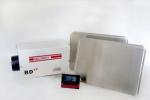 All BD systems feature ducted air cooling. THe four-inch round intake vent is ducted to the cabin to allow the compressor to draw in ambient temperature air. This air is then forced through the compressor box to cool the electronics and pass through the oversized air cooled condenser. Exhausted air exits through the back side of the cabinet ensuring efficient performance even in tropical climates.
The BD comes pre-charged with R-134a refrigerant. The copper lines from the cold plate connect to the compressor with brass Aeroquip® connectors which are self-sealing and may be disconnected without loss of refrigerant. The compressor is fitted with SAE-style R-134a service ports.
Stainless steel bulkhead brackets are available for mounting the BD compressor cabinet to a vertical wall. The compressor demensions are H7.5",W15"(includes 4-inch air duct),D9", and the weight is 19 pounds. Typical installation requires 1.5 inches behind the compressor, and room for vent hose.
The BDxp is the largest compressor in the BD series with approximately 30% greater cooling capacity than the BD. The BDxp should be used in larger refrigerator and freezer applications. The BDxp has an AEO (Adaptive Energy Optimizing) feature. This feature senses the amount of cooling needed and adjusts compressor speed accordingly. The BDxp may be fitted with a speed control in order to manage power draw. Air cooling a standard: optional air and water cooling is available. Housing size/weight are identical to the BD.