MasterVolt DC-DC Converters Mac 24/12-20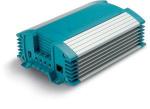 Different electrical systems use different voltages. This Mac DC-DC converter, from a new generation of microprocessor-controlled converters, will turn 24V DC into 12V DC, so you can enjoy both. But it brings you even more benefits, like dimming and battery charging.
The voltage required for direct current (DC) can vary considerably onboard a yacht. A bow thruster or a winch installation often works at 24V. But navigation and communication equipment mostly requires 12V. By using this small and lightweight DC-DC converter another voltage than applied in your basic system can be reached. It also ensures that your onboard equipment has a stable power supply with the right voltage. If you have many power-consuming devices onboard, the parallel use of several units can allow capacities of 40, 60 or more Amps. The charging of batteries takes place via the Mastervolt three-stage charge function.