Mass GI 3.5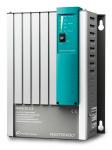 A safe connection between vessel and shore installation is an essential part of your electrical system. A galvanic electrical isolation between shore power and the on board power prevents any electrical corrosion of metal parts while keeping you earthed.
Ultra modern high-frequency electronic switch technology.
Lightweight and compact.
Integrated Soft Start function.
Connect to voltages from 90 to 255 V and from 45 to 65 Hz.
Units can be parallel coupled for higher capacity.
Higher efficiency, limited heat development.
Modern transformer technology: Light, silent, reliable and easy
The Mass GI is supplied with the latest high-frequency switching technology as well as Soft Start for peak loads when connecting to the grid. LED lights on the casing indicate load and overload. The transformer can be remote controlled. The Mass GI is 75 % lighter and 60 % smaller than to low frequency transformers.