ChargeMaster Plus 24/110-2 CZone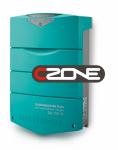 All-in-one solution for faster and safer charging
ChargeMaster Plus is the next generation of battery chargers that integrates multiple functions into one single device. Replacing auxiliary chargers, battery isolators and VSR, ChargeMaster Plus reduces system complexity and cost. Designed for versatility, it charges virtually any combination of two batteries in a fast and safe way and works anywhere in the world.
With the new Battery's Best Friend architecture, ChargeMaster Plus is capable of charging a multitude of battery chemistries, sizes and voltages. All batteries are charged with the fast and safe 3-step+ charge method. Other unique features are:
Revival mode: automatically revives even fully depleted batteries.
Multi voltage: charge 12 V starter battery in a 24 V system, without additional components.
Priority Charge: redirect available power to the lowest battery, for faster charging.