Sea Frost Plates, Ice-Making Kits, and Stainless Steel Freezer Bins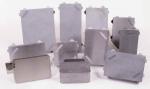 Plates
Holdover plate size and piping configurations can be customized for any installation. Information regarding the size of your box, and the insulation thickness and value will allow us to help you design the proper system.
Ice-Making Trays
Our optioinal, vertical ice-making trays can be used with any refrigerator or freezer application. Designed to expand as the water freezes, the trays hang vertically on the cold plate. Each vertical tray kit includes two vertical trays and splines, mounting rod and clips.
Stainless Steel Freezer Bins
For a small freezer within a refrigerator, the stainless steel freezer bin is ideal. Two walls of the Freezer Bin are double sided direct evaporator cold plates which freeze the bin on the inside, creating a small freezer, and refrigerate the cabinet. The bin should be mounted high in the box, either vertically or horizontally, and operates the best in a relatively small, well insulated cabinet. The standard built-in thermostat regulates the compressor to maintain constant temperatures. Other options include a remote thermostat, and a remote electronic thermostat/thermometer, bin lid, and ice making tray kit. Custom widths are also available up to 12 inches. The bin dimensions are H11", W9", Weight is 22 pounds, and the freezer volume is .6 cubic feet.