MasterVolt Battery Monitoring Panels Masterlink BTM-III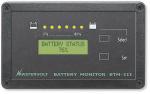 A Mastervolt battery monitoring panel brings an end to nasty surprises, like a sudden shortage of battery power. This sophisticated and popular panel provides broad information.
This information includes reading voltage, current, Ah, time remaining and remaining capacity in percentage terms for the main battery. The Masterlink BTM-III (12/24V DC) has LED indicators for remote monitoring of the battery level. A well-lit LCD screen also displays direct online data or historical information. In a single screen the state of charge and the voltage of three banks can be shown simultaneously.